About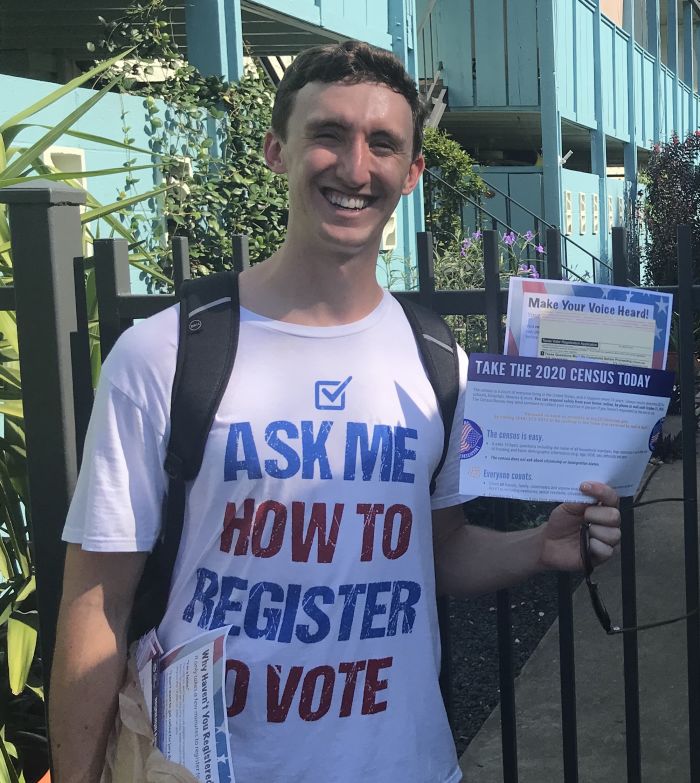 A fifth generation Texan, I studied Government and Public Policy at the University of Virginia. I worked as a strategy consultant to improve government systems and processes at the Centers for Disease Control and Prevention (CDC) and the Department of Veterans Affairs (VA). After a yearlong Fulbright Scholarship teaching English in Brazil, I returned to Texas to work as an operations manager in the micromobility industry. I now am fortunate enough to work at Raise Your Hand Texas, where I use data to help drive positive policy changes in our state's public education system. I'm also proud to volunteer with Manos de Cristo as a Citizenship Class Teaching Assistant, helping immigrants to Travis County from all over the world navigate the complicated process to become naturalized citizens.
Like many others in 2020, I was shocked and saddened by the state of the world. Although I've always been interested in voting and elections, I began to think more about the ways that voting is the gatekeeper to change on so many important issues like climate change, racial equity and access to healthcare. I also learned more about how my home, Texas, has some of the most restrictive voting laws and lowest rates of turnout in the nation. This government of the people, by the people, and for the people is steered and shaped by just a fraction of the people, leaving too many disenfranchised from the political process.
To take action, I became a Travis County Volunteer Deputy Registrar and Poll Worker. From working a booth at a farmers' market to registering students at the University of Texas Speedway on registration deadline day, it was exhilarating and meaningful to help over 100 new eligible voters fill out the registration form, answer questions, and clear up confusion. On Election Day, I worked the polls and met fantastic, selfless, civically-minded people putting in long hours to support our democracy. It was painful and frustrating to see the many barriers put in the way of voters by the state government: lack of online voter registration, difficult timelines, and insufficient education. However, I realized the problems at the county level—long lines, an underfunded poll worker program, and insufficient outreach to new and underserved voters—also hurt voter turnout across elections.
I've realized that the skills I've gained in my professional and volunteer experiences could be used to improve our elections process. My career has focused on analyzing key data to identify impactful solutions, and I want to put those skills to work by serving as County Clerk.
With your support, we can expand voting options, invest in our poll worker program, and build the best countywide elections app in Texas! We pride ourselves on civic engagement and voter-friendly policies in Travis County, and we have the opportunity to set the standard as the top place in Texas for voter access and turnout.
Democracy wins when more people vote. Join our campaign and vote Kurt for Clerk!